Festival Aurillac
BERLIN SQUARE / Toutes Voiles Dehors
22. / 23. / 24./ 25. August at 9:40pm
at Square des frères Andrieu, 15000 Aurillac

Creation for three individuals, three screens, four similar projectors, slide projector, three radio tapes, cello and double bass. With Clara Bausch (Super 8 and 16 mm), Amélie Legrand (Cello and voice) and Adam Goodwin (Bass)
the river in the trees thunderous noise takes place in the installation of Clara Bausch. The show examines and documents daily life. Clara Bausch plays these observations, passes through the prism of the association of ideas to create a universe universe and by the one, physical, of these 4 similar headlamps. Under Cover of a naturalist simplicity Adam Goodwin and Amélie Legrand Develop a complex musical landscape. Using as a guideline the poem of jean tardieu "beginning and end", Amélie Legrand to cello and voice and Adam Goodwin at bass play with the perceptible and imperceptible, mixing the sounds of everyday life with the sounds of their instruments, Imposing an intimate presence.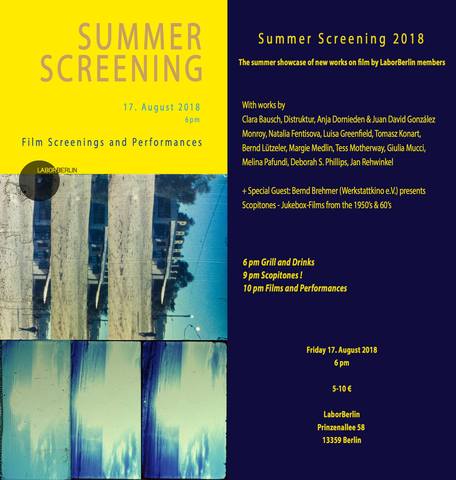 Films, Expanded Cinema, Scopitones & BBQ in the Garden
Nachdem wir die letzten Jahre ausgesetzt hatten, ist es diesen Sommer wieder so weit: LaborBerlin präsentiert das jährliche Summer Screening mit Filmen und Performances unserer Mitglieder unter freiem Himmel im Garten. Ausserdem im Programm: Scopitones - Jukebox-Filme aus den 50ern und 60ern auf 16mm, präsentiert von Bernd Brehmer vom Werkstattkino e.V. München. Das Ganze findet im Garten hinter unserem Gebäude in der Prinzenallee 58 in Berlin Wedding statt, es wird gegrillt und Getränke gibt es natürlich auch!
18 Uhr Grillen
21 Uhr Scopitones!
22 Uhr Filme & Performances
1 Uhr Party
PEPPERS GHOST
05. 8 - 17.8.2018
Raaf van der Sman and Clara Bausch
OPENING: 04. August 2018: 7 PM - 10 PM
***sign, CIAT - Contemporary Institute for Art & Thought*******
ZOSSENER STRASSE 34, HH, KREUZBERG, BERLIN
*******
Exhibition / Opening times: 09.8 + 11.8 + 12.8 +17.8 4 - 7 PM
and by appointment: + 49 1577 1429532 / + 49 176 57826886
+++
Pepper's Ghost
a text by Sarah Rifky
The exhibition "Pepper's Ghost" takes its title from the phantasmechanical trick popularized by the scientist John Henry Pepper in the 19th century, in which objects appear, magically transformed by using glass, light and reflection. In layperson terms, it's how we see ghosts. While we cannot be certain as to whether an object, image, or ghost can in and of itself be identical or accurately reproduced, we do know that when the lights are bright, reflected images cannot be seen.
* * *
January 12, 2014
In the first part of my dream, R. is going to perform psychoanalysis, or some similar trick. He takes three things that end up speaking to each other. One of them is a self-portrait that is a stick figure done of me by a child, or maybe one I did myself.
In another part of the dream, I am on a big boat. We are in the Gulf. It is spectacular but predictable. The men we are with dare the guy I am with (who looks like a young, scrawny version of Leonardo di Caprio, but goes by the name Mario) to get off there and try to swim to England. We get off in the middle of the sea. We are wearing bathing suits and coats. I am carrying a bag with my laptop—the inadequate bag by Dora (the Explorer). He swims. On me, I have a small metal vessel (made out of aluminum) that has four legs, so you can fold them out and it will stand. It is a fake Venice-like situation, but more contemporary, and I worry about the temperature of the water. We manage. We swim, getting to parts close to the edge of a building where the current is less strong, and I wonder if Leonardo-Mario should get into the boat.
In the final part of the dream, I am visiting someone's library. It is not a very nice set of rooms. I look at different versions of art guides to the city. I file through a number of books, and like the ones that feature statistics. I want to cut out the figures and the tables. I try to remember as much as possible. Suddenly, I am in another room and lying on a bed watching an oversized TV. We have lost our office (which is vision) within the space, and I don't know how I feel about that. We will work in the library, I say. There are a few people cleaning, and I am cleaning—or in the bed with the cleaners. We are just being lazy and watching TV. The TV shows images that are like shadows; they flicker colors. I think I see the words GREEN CAT MILITARY. I'm not sure. The people keep changing. It is consistent in my doing nothing. I keep thinking about my dreams.
In the first dream, I think there is something incestuous, almost, about the drawing kissing another series. An object. I didn't know objects could kiss.
* * *
The drawings-come-mural-like-collages of Raaf van der Sman are an index of the subconscious, where the residues of what we perceive in the everyday are spun into a new concretized form. The images are a site of play and production. A figure—which bears an eerie resemblance to Super Mario—appears to be pouring a substance into a concrete-time-making machine, sputtering out shadows interspersed with acronyms and words. Military. Piss. The drawing is saturated with something of the techno-phantasmatic workings of dreams colliding with perception and memory. Cutouts complete parts of the image drawn, and redrawn. The manual labor of reproduction is less an exercise of memory, and more the result of imagination systematically put to work.
The enduring quality of van der Sman's drawings are flickers of something unnamable, yet familiar. They are not a black glove, a pair of boots, a sense of gravity, a gun, or entangled cables, but akin to what we might discern to be precisely that. The sparse coloring—traces and steps of red, blue and yellow—evoke an image of a staircase one might encounter from the descent during a hypnotic induction. The steps are picked up in Clara Bausch's chromatic silkscreen prints, hovering in the surrounding frames in the space.
The series of silkscreen prints on cardboard, developed through a process of deconstruction and re-assemblage of images—found or taken—are determined by Bausch's systematic search for representations of figures of women in print. The collages, comprised of shapes, figures and structures found, cut, copied, and re-used, become a modular exercise in new constructions. The images, culled out of the realm of representation, are made into something new. What we are left with is not so much abstraction, but a quality of feeling—a feeling of doing—or "qualia."1 These "qualia" are referenced in the titles of each of the prints: density, light, texture, shadow. The terms, although they connote a quality of feeling, are also terminologically technical; they come from the corpus of words used in analog photography, the domain of the artist's own practice. The individual images, index photography-as-medium. Medium, in the spiritist sense, and medium, in the sense of form doing something—the different reactions an image has to being exposed to chemical substances or light, the degree of sensitivity an image exudes, and the undecided ways in which a spectrum of possibilities is produced.
Pepper's Ghost is an exhibition-as-trick, of phantasmechanical images, re-dreamt and re-imagined, and laboriously put back into the realm of drawing, doing, cutting, pasting; assembling and deconstructing material images—and ideas—all at once.
1 Qualia, typically describes a person's subjective sense of perception; in recent linguistic anthropology "qualia" are understood as "indexes" or pragmatic signals that are experienced as sensuous qualities and that can be studied. To study qualia, ethnographers observe this "feeling of doing" across interactions: linguistic and phatic practices, social relations and body-centered practices. Harkness, Nicholas, The Pragmatics of Qualia in Practice (October 2015). Annual Review of Anthropology, Vol. 44, pp. 573-589, 2015.