präsentiert eine Kollektivaktion von :
Stefan Höller, Heike Kabisch, Simon Heser, Joker, Fabian Blobel, Norbert Prangenberg, Lea Asja Pagenkemper, Philipp Krabbe, Cécile Lempert, Kata Unger, Manshu-Rhan Park, Clara Bausch, Stefan Kürten, Eva Haupt, Oskar Klinkhammer, Mike Hentz, Sabine Hauptmanns, Manuela Wossowski, Jürgen Malcherek, Johannes Hüppi, und andere :
MELANCHOLIE UND LEICHTIGKEIT
Eröffnung : Samstag 10. Oktober 2020, 16 bis 19 h
- Preview nach Vereinbarung -
Ausstellung : 10.10. bis 31.10.2020
Mi-Sa 12-18 h / by appointment+49-(0)172-4344557
galerie@anna-klinkhammer.de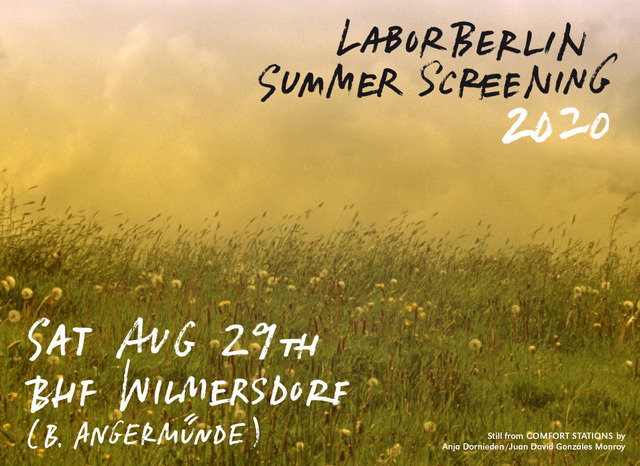 August 29th 2020
LABORBERLIN SUMMER SCREENING 2020
FEATURING WORKS BY Manque La Banca, Clara Bausch, Catarina Cavallari, Distruktur, Anja Dornieden / Juan David Gonzáles Monroy, Laurence Favre, Volga
Address: Straße zum Bahnhof 5, 16278 Wilmersdorf near Angermünde
Please RSVP / registrate at https://summerscreening.rsvpify.com
seit 6.3.
The Immense Ventriloquism - Part.2 presents new work by TC McCormack, and showcases new and existing works by guest artists: Clara Bausch, Matthew Burbidge, Ingo Gerken, Marie von Heyl, Michael Schultze, Raaf van der Sman & Oliver Zwink.
nationalmuseum, Urbanstrasse 100, 10967 Berlin

seit 2.12
»ÜBERDRUCK«
Kuratiert von Magda Korsinsky, Lars Lenhardt & Christian Klier
mit Peter Appelt, Elvira Bach, Clara Bausch, Emanuel Bernstone, Uliane Borchert, Barbara Breitenfellner, Carla Chan, Gisela Eichardt, Endart, Clemens Fahnemann, Jay Gard, Gustavo, Katrin Hahner, Yoshimitsu Hirota, Karl Horst Hödicke, Klaus Horstmann-Czech, Kama Jackowska, Manuel Kirsch, Caroline Kryzecki, Renata Kudlacek, Bruce Mc Lean, Mattes, Daniel Mecklenburg, Ricarda Mieth, Ardan Özmenolu, Sigrun Paulsen, A.R. Penck, Ernst Max Praxmara,Almut Quittenbaum, Renaud Regnery, Bärbel Rothhaar, Christian Schellenberger, Michael Schönke, Hanna Stiegeler, Gabriela Volanti, Alexander Wagner, Sadie Weis, Linhan Y
Druckwerkstatt des bbk Berlin, Mariannenplatz 2, 10997 Berlin